Hi Everyone, Could any one help me find the "Live Room" menu?
Can you explain a little more what do you mean about the "live room" menu?
Thank you,
Ricardo
Good day Prince,
Hope you are well.
Following up on Ricardo's response, are you able to give us a little more information regarding the "live room" menu?
Thanks!
Hi,
Attached is a photo of what I mean. I meant "Live Sessions" at extreme right top corner. Where the pointer is.
Thanks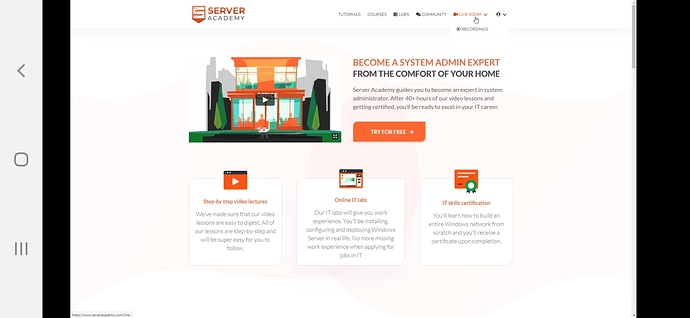 I now know what you mean. I will need to check with @ServerAcademy since these were live events that were streamed and recorded.
You can find in the meantime some of them on ServerAcademy's Youtube channel here:
Ricardo.
Hi
Thanks for the quick response.
The understanding I had from the orientation concerning the various functionalities that ServerAcademy full membership provides include live tutorials.
I am a new memeber for @ServerAcademy . I joined this after following up on one such "Live Session" from paul.
But I am also not able to find that option on serveracademy.com.
Was it removed or changed?
Thank You
Hi @vidhyutv
We haven't had much action lately on the live room and the header menu is no longer there. If you scroll down to the footer of the webpage, it is located under the footer menu Training > Webinars.
Ricardo